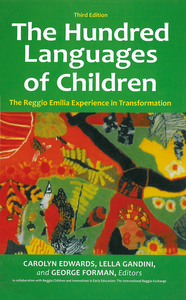 The Hundred Languages of Children – Third Edition
Regular price $35.00 Sale
The third edition traces the evolution of the world-renowned early childhood system in Reggio Emilia as it continues to respond to the demographic and political changes in Northern Italy in recent years. The adaptation of this system to increased immigration, shifts in party politics, economic pressures, and their own international celebrity provides us with an example of professionalism, care, and quality. The reader is offered an historical and contemporary overview of the Reggio Emilia experience addressed in detail through three central themes: teaching and learning in the context of building relationships, the use and evolution of the hundred languages of children, and the integration of documentation into the processes of observing, reflecting, and communicating among educators, children, and parents.
Edited by Carolyn Edwards, Lella Gandini, and George Forman
ABC-CLIO, 2011; illus., softbound, 412 pages
Dimensions: 9 x 6 x 1.5 in
*We no longer carry this product, but would like to note that it can be purchased on Amazon.